Asset-Based Lines of Credit
For small manufacturers and distributors, working capital loans and inventory finance can often be problematic. In fact, inventory is often one of the most difficult assets for a small business to finance. But not at Pierce Group Inc..
At Pierce Group Inc., we are experts in providing alternative small business finance solutions to entrepreneurs in their early stages of business when traditional bank financing is difficult (or impossible) to obtain. We can provide inventory finance through our network of: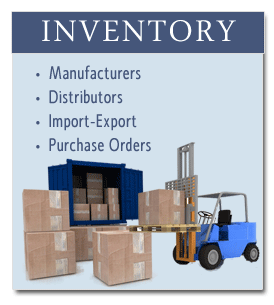 Asset-Based Lenders: Providers of revolving lines of credit based on your accounts receivable, inventory, and equipment
Inventory Specialty Lenders: Specialty companies providing stand alone inventory finance in conjunction with factoring
Micro-Lenders: Lenders providing working capital loans of under $50,000
Purchase Order Finance Companies: Financing inventory for immediate delivery to a customer based on a valid purchase order
Requirements for Inventory Finance
While factoring is readily available for even the smallest, early stage companies, financing inventory will require some credit history for the borrower. In cases of very early-stage companies, factoring often provides the bulk of financing with a smaller "inventory only" component being added with the factor's assistance. Inventory loan facilities will also always require the personal guarantee of the business owner, something usually unnecessary for a standard factoring arrangement.
Find Out More
One of the best ways to further explore inventory finance and to see if its right for you and your business is to request our FREE booklet, "When Banks Say NO!...The Small Business Guide to Factoring." Its FREE, from Pierce Group Inc.. (click here to order)